The Zarif Brouhaha
by Heshmat Alavi
Sat, August 3, 2019
The U.S. Treasury Department sanctioned Iranian Foreign Minister Mohammad Javad Zarif on July 31st "because Zarif acted or purported to act for or on behalf of, directly or indirectly, the Supreme Leader of the Islamic Republic of Iran," according to Treasury's official statement.
"Javad Zarif implements the reckless agenda of Iran's Supreme Leader, and is the regime's primary spokesperson around the world. The United States is sending a clear message to the Iranian regime that its recent behavior is completely unacceptable," said U.S. Treasury Secretary Steven T. Mnuchin. "At the same time the Iranian regime denies Iranian citizens' access to social media, Foreign Minister Javad Zarif spreads the regime's propaganda and disinformation around the world through these mediums."
Following this unprecedented designation, Zarif himself tweeted, "It has no effect on me…" After this signal, the network of Tehran apologists/lobbyists quickly geared into "save face mode."
Trita Parsi, the disgraced founder of Iran's DC-based lobby group, the National Iranian American Council, tweeted the following: "By sanctioning Zarif, opponents of diplomacy inside Trump's WH continue to create obstacles for diplomacy. This won't affect Zarif, but it'll make it more difficult for Trump to ever get to talk to Iran - thus increasing the risk of war. That's the motivation behind this move."
Richard Nephew of the Brookings Institute tweeted: "The Zarif designation is one of the most ridiculous steps I've seen this Administration take. It won't meaningfully affect Zarif's diplomacy, it probably won't result in much in terms of asset freeze or complications for him, and will annoy other world leaders."
The main talking points: Zarif's sanctioning means nothing.
Well, the first question for me is: If this sanctioning truly means nothing, why all the fuss and brouhaha? For that answer, I suggest we dig into the Treasury Department's official statement.
"… additional information indicates that Javad Zarif oversees a foreign ministry that has coordinated with one of the Iranian regime's most nefarious state entities, the IRGC-Qods Force (IRGC-QF), which is designated pursuant to terrorism and human rights authorities."
This is important wording, linking Zarif, the top diplomat of the mullahs' regime, to the Revolutionary Guards (IRGC) Quds Force, a terrorist entity known to be running Tehran's extraterritorial terror campaign. This includes arms and credit to the regime in Syria, along with recruiting cannon fodders from Afghanistan, Pakistan, Iraq and … to help maintain Bashar Assad in power.
The IRGC Quds Force has also been active in malign activities across Iraq. The Washington Examiner reported, "based on declassified U.S. military reports, that Iran is responsible for the deaths of at least 608 American service members," Brian Hook, U.S. Special Representative for Iran, said during a State Department briefing back in April. "This accounts for 17 percent of all deaths of U.S. personnel in Iraq from 2003 to 2011. This death toll is in addition to the many thousands of Iraqis killed by the IRGC's proxies."
Zarif himself is known to have very close relations with the IRGC Quds Force chief Qassem Soleimani, the IRGC apparatus, Hezbollah and Bashar Assad.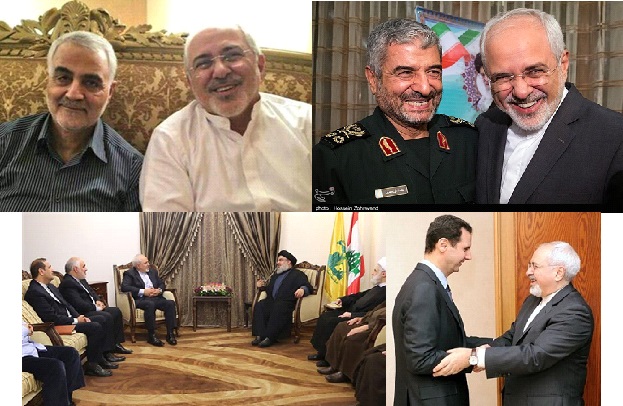 Back to the Treasury statement:
"Zarif's Ministry of Foreign Affairs and its high ranking officials have engaged in and funded efforts to influence elections, some of which have involved the IRGC-QF."
This further embeds Zarif with the IRGC Quds Force and literally portraits an image of Zarif's Ministry of Foreign Affairs acting at the behest of the IRGC-QF. There have long been deep suspicions of Tehran's negative influence in post-2003 elections held in Iraq and for decades on in Lebanon where Hezbollah enjoys seats in the Parliament.
"Additionally, senior officials of Iran's Ministry of Foreign Affairs sought to facilitate the release of two IRGC-QF operatives from a foreign country by making payments to foreign judiciary officials."
The statement does not mention a specific country in this regard. I believe this is a referral to an ongoing judicial dossier in the country of Kenya.
"Iranian Ambassador to Kenya Hadi Farajvand has been reportedly caught up in an investigation on a botched corruption plot to free two terror suspects from police custody," according to a Gulf News report back in late February of this year.

"The ambassador had been looking for high-level contacts in government who could help him to illegally secure the release of Iranian nationals Ahmad Abolfathi Mohammad and Sayed Mansour Mousavi who are in police custody pending a decision by the Supreme Court on whether to release them or not and smuggle them out of Kenya," Kenyan media reported on Saturday.

"Authorities believe the two Iranians are members of the Quds Force, an elite unit of Iran's Revolutionary Guard that carries out covert foreign missions, including terror attacks."
The U.S. Treasury Department has raised significant accusations against the Iranian regime's top diplomat. Now let us pay precise attention to the final segment of the Treasury's statement.
Sanctions Implications
All property and interests in property of this individual that are in the United States or in the possession or control of U.S. persons must be blocked and reported to OFAC. OFAC's regulations generally prohibit all dealings by U.S. persons or within (or transiting) the United States that involve any property or interests in property of blocked or designated persons.
In addition, persons that engage in certain transactions with the individual designated today may themselves be exposed to designation. Furthermore, any foreign financial institution that knowingly conducts or facilitates a significant transaction for or on behalf of the individual designated today could be subject to U.S. correspondent account or payable-through sanctions.
Traditionally, sanctions issued by the U.S. Treasury Department involve financial property and transactions. This statement, however, specifically uses very general wording that can be interpreted to a damning extent for Zarif and anyone wishing to make contact with him.
Joyce Karam of The National tweeted that U.S. sanctions "warns ALL persons that engage with Zarif; travel assessed 'case by case.'"
This sheds light into why Zarif and Iranian regime apologists/lobbyists across the board have been on overdrive in response.
Ben Rhodes, Obama's deputy national security advisor and famous for his "echo chamber" that sold the 2015 Iran nuclear deal to the U.S. media, was one of the first to rush to Zarif's support.
"Pulling out of the Iran Deal and sanctioning Iran's Foreign Minister forecloses diplomacy, which is why Trump keeps finding himself on the brink of war or a resumed Iranian nuclear program," he said in a tweet. He also retweeted Nephew's tweet mentioned earlier. Furthermore, notice the striking resemblance in talking points used by Rhodes and Parsi in regards to end of diplomacy and being on the brink of war.
Wendy Sherman, Obama's deputy secretary of state who helped Zarif blueprint the 2015 nuclear deal, joined the likes of Barbara Slavin, Narges Bajoghli, Sina Azodi, Esfandyar Batmanghelidj, all disgraced Tehran apologist, in providing life support for Zarif. They were also joined by former Swedish prime minister Carl Bildt – who enjoyed close relations with the mullahs during his tenure as premier and foreign minister – and Dylan Williams of J Street in criticizing this sanctioning by rushing to the support of Tehran's murderous mullahs.
To be honest, I am not surprised of any of their remarks. Neither was I surprised when I heard different European governments, using a variety of terms, denouncing the U.S. sanctions on Zarif.
Very similar voices – who care nothing about the Iranian people, and seek only their own interests and pockets – all had criticized the blacklisting of the terrorists IRGC and Washington's decision to launch sanctions aimed at zeroing the mullahs' oil exports.
Iran has exported about 100,000 barrels per day of crude in July, reports indicate. Data from Refinitiv Eikon put crude shipments at a similar rate of 120,000 bpd if condensate, a light oil, is included.
All said and done, the mere fact that Tehran apologists/lobbyists – and figures promoting an appeasement approach vis-à-vis the mullahs in Iran – have reacted in such utter panic mode is all the proof needed that this sanctioning of Zarif is a significant measure. Otherwise, they shouldn't have cared less.
In response to the U.S. designating Iran's IRGC as a "Foreign Terrorist Organization," Tehran responded by designating CENTCOM as a terrorist entity. The Trump administration could care less and everyone had a good laugh, seeing firsthand the desperate nature of the mullahs' regime.
With time running out for the Iranian regime, we will definitely witness more brouhaha, hysterical/ridiculous remarks in reaction, and all-out panic.
---