A Challenge for Adam Schiff
$10,000 to his Charity of Choice
by Thomas Wictor
Thu, February 7, 2019
Dear Congressman Schiff:
I've read your press release "Chairman Schiff Statement on House Intelligence Committee Investigation."
Washington, DC - Today, Rep. Adam Schiff (D-CA), the Chairman of the House Permanent Select Committee on Intelligence, released the following statement following the Committee's organizational meeting: "Consistent with its jurisdiction, investigative responsibilities, and building on substantial work undertaken during the last Congress, the House Permanent Select Committee on Intelligence ("Committee") will conduct a rigorous investigation into efforts by Russia and other foreign entities to influence the U.S.
And I saw your tweet.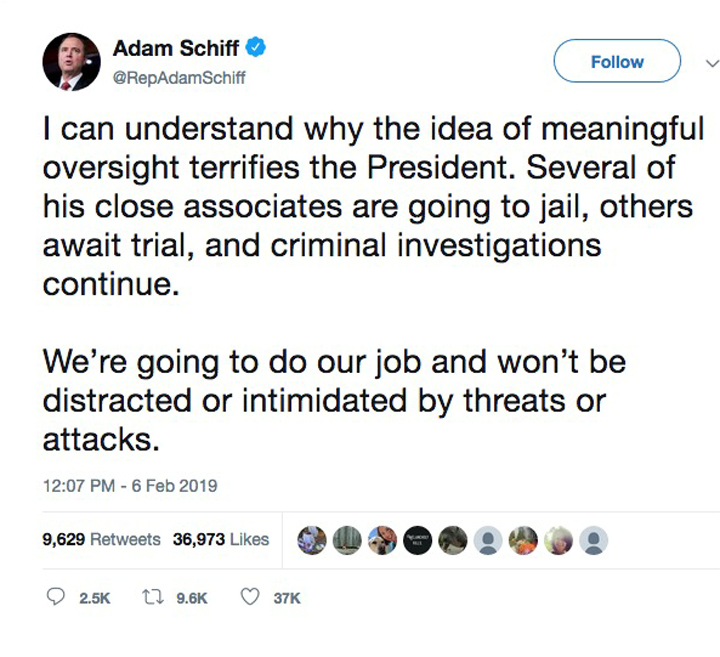 Now, in your press release, you say that you are going to investigate this:
(3) Whether any foreign actor has sought to compromise or holds leverage, financial or otherwise, over Donald Trump, his family, his business, or his associates;
(4) Whether President Trump, his family, or his associates are or were at any time at heightened risk of, or vulnerable to, foreign exploitation, inducement, manipulation, pressure, or coercion, or have sought to influence U.S. government policy in service of foreign interests;
By "foreign actor" and "foreign interests" you mean Russia. You're going to investigate the question of whether or not Russia has a hold on Trump.
Fine.
Here's the question that I want to ask you, Congressman Schiff.
If Russia has any kind of hold over Donald Trump, then why did Trump inflict on Russia the worst military defeat she has ever suffered at the hands of Americans?
It happened near Deir Ezzor, Syria, on February 7, 2018. A Russian assault battalion of 550 men armed with tanks and artillery attacked about 40 Americans, and we killed 200-300 and wounded 200-300. The Russians took 100 percent casualties.
Now, this was the worst military defeat Americans ever inflicted on the Russian empire, or the USSR, or the Russian Federation. When it comes to Russia in any form, Donald Trump is the American president who did the most damage militarily. General Patton would be proud of President Trump.
How was it possible for Trump to do this if he's vulnerable to Russian influence?
If you can give me a CREDIBLE answer, Congressman, I will donate $10,000 to the charity of your choice. Note: a CREDIBLE answer. In other words, it has to make sense. I must be able to diagram it.
Just to make sure we understand each other, the Russians who we killed were soldiers, not mercenaries. They're known as Ghost Soldiers.
"Officially, Russia is participating only in an air war over Syria with a small number of special forces on the ground. Moscow denies that its troops are involved in regular ground combat operations."
"However, in interviews with more than a dozen people with direct knowledge of these deployments, Reuters has established that Russian fighters are playing a more substantial role in ground combat than that the role the Kremlin says is being played by the regular Russian military."

Russia did this in Ukraine. The Little Green Men were said to not be Russian army.
In reality, those were men off the 76th Guards Air Assault Division.
"It should be noted the Pskov-based 76th Guards Air Assault Division was involved in the 2008 Russia-Georgia war, two Chechen wars as well as the annexation of Crimea in 2014. Its troops were also spotted in Donbas. In August 2014, president Vladimir Putin awarded the division with the Suvorov Order for 'successfull completion of combat missions'."

Not only did Trump inflict the worst American defeat on Russia EVER, it's clear that the Russians were misled. They thought the Americans would back off. Instead, the Russians were not only stopped, they were slaughtered. Gunships, bombers, and artillery pounded the Russians for three hours. They had long since ended their advance. The goal was to annihilate them, as James Mattis said.
If Trump is vulnerable to Russian influence, then how is it that Trump humiliated Vladimir Putin in a way never before done in the entire history of our country?
I await your answer, Congressman.
And one more question:
I saved the Web page on which you published your press release. In a file labeled "211.js" I found this:
u.__SECRET_DOM_DO_NOT_USE_OR_YOU_WILL_BE_FIRED=r,u.__SECRET_DOM_SERVER_DO_NOT_USE_OR_YOU_WILL_BE_FIRED=o,e.exports=u
Does this mean you're going be fired?
And what is it with secret servers? Didn't anybody learn anything from the 2016 elections?

---